ZEALE (pronounced Zeely), formerly known as ZEALE Rapz, is a really dope MC from Austin, TX. As I was preparing for my interview with him, one of the first questions I wrote down was this: "Why drop the 'Rapz' part from your moniker?" Then I actually listened to his latest EP, 2014's FRNZ & FNGZ, and hastily deleted the idiotic question. The answer immediately became clear: yes, ZEALE does indeed rap, in the same way that a Swiss Army knife cuts. To dismiss him as just a rapper is to severely undermine the rest of his skill-set.
My interview with ZEALE only confirmed what I already knew. When the topic of genre came up, he was quick to disassociate himself from… well… everything, really. "People are like, 'what's the genre'? Well fuck, man, I don't know… I straddle all these lines. What does it sound like? It sounds like ZEALE."
I can't argue with that. He is over a decade into a music career that began in a more traditional manner: battle rapping. But for a man with influences ranging from Pharrell (who he says is "the number one guy"), to Beck, to Rage Against the Machine, to Led Zeppelin, to Childish Gambino, the 8 Mile route just wasn't going to cut it.
"That shit just got boring to me. I'm not built to be this overbearing thug rapper. I would be talking about the same weird, quirky shit that I talk about now, but it would be over these hard ass hip-hop beats. I wasn't being as honest or creative as I could be." Wise words from an artist who is clearly growing more and more comfortable with his unique sonic palette with every release.
He points to a track named "Dull Dayz," from his 2009 album HaTeRz & RoBoTz, as a turning point in his quest to stay true to his artistic integrity. The song samples Pink Floyd's Dark Side of the Moon classic, "Time." Indeed, giving "Dull Dayz" a spin after I had already heard FRNZ & FNGZ, I could see its potential as a sort of Darwinian missing link between his traditional east coast boom bap background and his present day genre-defying output.
To be clear, "Dull Dayz" is a rap song through and through, one that showcases ZEALE's microphone prowess admirably. Everything from witty metaphors ("my life's a hundred dollar bill, it needs change") to precise double-time flows are on display. He does this rap shit well. But it's the rock and electronic elements of the track that I found to encapsulate the ironic symbolism of the title best: musically speaking, ZEALE was well on his way to breaking all ties with anything that could be considered tedious, listless, or — you guessed it — dull.
He spent the next three years showing and proving his expansive range with a series of projects that included 2010's DISASTERKRFT mixtape, 2011's The Mashup Smashup micro-mixtape, and 2012's Wake Hell Or Make Peace EP (is it just me or does the dude have a knack for great project titles?), all of which are available for next to nothing on his Bandcamp page.
The first ZEALE song that I ever heard was WHOMP's "Hope Dies," a powerful and deliberate rock-tinged banger that finds him flexing his socio-political consciousness. "Got my grandmother squeezin' on her rosary, while she's walking through a flood holding groceries," he spits, while the chilling Patricia Lynn chorus urges us all to "be ready when your hope dies." The song is best listened to in conjunction with its awesome post-apocalyptically themed video, which was shot in the woods outside of Austin during a period of intense drought and forest fires.
When asked why his newer material has a decidedly different, more upbeat tone than "Hope Dies," ZEALE gave the answer that any great artist would: "My writing process is just whatever is influencing me at the time. Whatever is happening, whether it's political, social, or just personal shit with crazy girls or fucked up homies. Whatever I write about is very real at that time."
Which brings us to last year's superb EP, FRNZ & FNGZ. It is a six-track project that combines live instrumentation and programming, with features as diverse as Del Tha Funkee Homosapien, to Spencer Ludwig from Capital Cities, to Anti-Flag's Chris No. 2. ZEALE recorded the entire project in Venice Beach, claiming that it was "the most fun I had making a record so far." It sure sounds like it.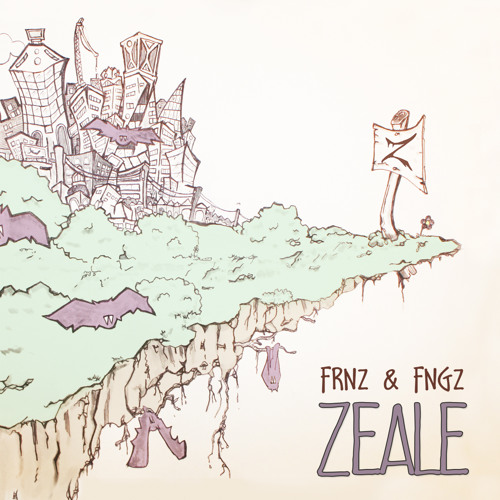 ZEALE credits the project's cohesiveness and "daytime, energetic vibe" to the collaborative spirit surrounding it: "Now that I have producers that I continually work with, and now that I produce myself, I can give them a direction and they can create whatever inspires them. I'll take that and feel inspired by the things that they were inspired by. There's nothing that drives a creative person more than another creative person behind them."
The EP fuses rock, funk, electronic, and hip-hop seamlessly, with ZEALE's charismatic and emphatic delivery being the amalgamating factor. He tows the line between crass and empathetic, conscious and wild-out, soft and hard, on the drop of a dime. From the party starting "Marilyn Monroe," to the inspiring "City Lights," to the haunting "Invisible Prisons," FRNZ & FNGZ paints a portrait of a complex, layered artist with much to offer.
Since FRNZ & FNGZ was not released on a label, it is an unfairly short teaser for what's to come next. "I just wanted to put a sampler out there for what direction we want to go in. Now that I have some backing behind that, the next one will probably be a full record," ZEALE says. At this point in his career, he is comfortable with the moves he's making and patient about his presentation.
Just like in his music, he's a jack of all trades away from the studio as well. From hosting University of Texas basketball games to Red Bull Music events, it seems as though ZEALE's journey is just now beginning. By the end of our interview, I wasn't even surprised when he told us that he would attend a Clash show in New York if he could be present for any event in music history, or that he would smoke weed with Robin Williams if he could smoke with anybody dead or alive. It's just two more examples of his well-rounded, explorative character.
I for one am stoked to see him perform live for JamFeed's SXSW Music Tech Fest, which will be at The Swan Dive in Austin on March 16th. He will also be shutting down The Mohawk for an album release party of sorts (even though FRNZ & FNGZ came out in October…) on April 24th. Grab FRNZ & FNGZ on iTunes now, or stream it on Spotify.
Download JamFeed, now available for both iOS AND Android (as of this week!), to keep up with all the latest news regarding ZEALE and any of your other favorite artists or festivals.